ABOUT ROBERT J. DARLING
Author of 24 Hours Inside the President's Bunker
9-11-01 The White House
Lieutenant Colonel Robert J. Darling, United States Marine Corps (Ret.)
Lieutenant Colonel Darling retired from the United States Marine Corps with just over twenty years of active duty service in October 2007. He flew Cobra attack helicopters in Desert Shield and Desert Storm during the first Gulf War and in Somalia, Africa in support of Operation Restore Hope. In June 1998, he was selected to fly as a presidential pilot with Marine Helicopter Squadron One and in October 2000, he was selected to work for The White House Military Office, Airlift Operations Department. It was in that capacity that, then Major Darling supported the President, Vice President and National Security Advisor in the Presidential Emergency Operations Center (PEOC) on September 11, 2001.
Bob graduated from Iona College, New Rochelle, NY with a BA in Economics in 1987. Upon graduation he was commissioned a 2nd Lieutenant aboard the USS Intrepid. In 2002 Bob attended the Naval Postgraduate School, Monterey, CA where he earned his MBA in Financial Management.
At the urging of family, friends, and colleagues to share his witness to American history, Bob wrote his memoir, "24 Hours Inside the President's Bunker, 9/11/01: The White House. He continues to share his personal experience and knowledge of crisis leadership with many military, corporate, and university audiences nationwide. He is the President of Quantitative Analytics, LLC, an aviation operations and logistics consulting company located in Stafford, Virginia.
"Lt. Col. Darling's account of his participation in protecting our nation during the worst attacks in our history is gripping! It reminds us that this is not yet part of our history but still a present on-going threat. We can all learn a great deal from reading it."
~ Rudolph W. Giuliani Former Mayor, City of New York


---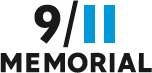 Webcast : Exploring 9/11 – The World Before and After
Robert J. Darling shares his experiences inside the White House on 9/11.
Lt. Col. Robert J. Darling, a former Marine and White House Military Office Airlift Operations Liaison Officer, was charged with organizing all logistical aspects of travel for the White House. His recent book titled "24 Hours inside the President's Bunker" details his time in the President's Emergency Operations Center on September 11, 2001.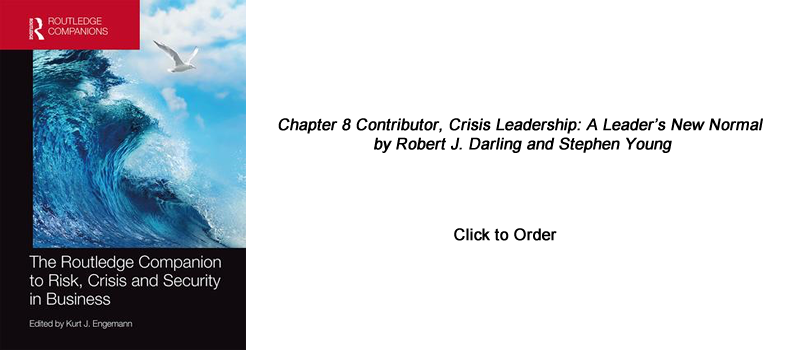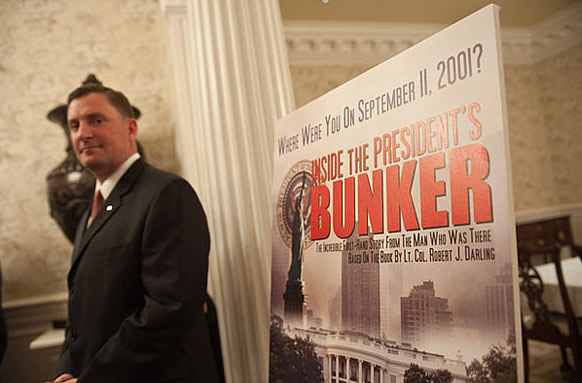 Robert Darling Interview with
Chris Matthews on Hardball
What His Audiences are Saying
"Riveting!"
"All we can say is, WOW!"
"Awesome"
"Great Speaker"
"Bob Darling was phenomenal."
"What a story - thanks for arranging this presentation."
"Would give higher scores if they existed!!!"
"Great closing speaker!"
"Great moving speaker!"
"Outstanding! Also, very interesting."
"Great speaker and great information."
"He was absolutely wonderful! He was one of the best, if not the best, speaker I have ever booked."
"The most enlightening lecture I've ever heard."
"As Lt Col. Darling recounted his experience during the 9/11 tragedy, he focused on the strength of the nation's leaders as they managed the situation and the audience was captivated. His message was clear and resonated with our attendees - leadership and crisis management were the difference between hope and despair. His presentation was powerful and you could hear a pin drop yet he was spirited, positive and spoke with everyone who approached him. He was charming and easy to work with and I highly recommend him as a speaker at your event."
- Jenn M. Zorn, Sr Vice President/Director of Education and Business Development New Jersey Bankers Association
"Engaging, riveting, and fascinating are just a few words that can be used to describe Lt. Colonel Robert Darling's keynote presentation at our annual conference. With powerful content and a gift for captivating his audience, he is simply dynamic on stage."
– Michael Delucchi, Executive Director, Western Bankers Association
Contact to Speak
Complete the short form below to request information about Keynote and Speaking Appearances!
Robert J. Darling Bio
Retired Marine Corps Lt. Col.
Cobra "Attack Helicopter" Pilot
Marine Helicopter Squadron One Presidential Pilot for President Bill Clinton
White House Airlift Operations Officer who, during the attack on America on 9/11/01, responded to the underground White House Bunker Complex and stood shoulder to shoulder with America's highest leaders as they made unprecedented crisis leadership decisions on behalf of all Americans.
Author : "24 Hours Inside the President's Bunker, 9/11/01"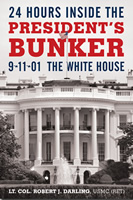 CEO of Quantitative Analytics, LLC
Managing Partner of Turning Point Crisis Management-USA
robertjdarling@gmail.com
540-272-7442