REAL LESSONS IN CRISIS LEADERSHIP & DECISION MAKING
SCHEDULE ROBERT J. DARLING FOR AN EVENT KEYNOTE, SPEAKING, OR TRAINING APPEARANCE
American History TV CSPAN3
Inside the President's Bunker on 9/11
Retired Lieutenant Colonel Robert Darling talks about his experiences on September 11, 2001 inside the White House bunker, where he worked alongside Vice President Dick Cheney and National Security Advisor Condoleezza Rice.
Honoring the Heroes
of Flight 93
An interview with Lt. Col. Robert J. Darling, USMC (Ret), author of 24 Hours inside the President's Bunker. Here he talks about the real heroes of 9/11 ... the brave passengers of flight 93 who were the first to fight.
You Are Stronger
Than You Know
Each of us has tremendous potential… potential to do good and even great and wonderful things in our lives. But too often that potential is never realized. We don't turn our human potential into the what's possible and then work on it until it becomes the probable.
What His Audiences are Saying
"Riveting!"
"All we can say is, WOW!"
"Awesome"
"Great Speaker"
"Bob Darling was phenomenal."
"What a story - thanks for arranging this presentation."
"Would give higher scores if they existed!!!"
"Great closing speaker!"
"Great moving speaker!"
"Outstanding! Also, very interesting."
"Great speaker and great information."
"He was absolutely wonderful! He was one of the best, if not the best, speaker I have ever booked."
"The most enlightening lecture I've ever heard."
"Engaging, riveting, and fascinating are just a few words that can be used to describe Lt. Colonel Robert Darling's keynote presentation at our annual conference. With powerful content and a gift for captivating his audience, he is simply dynamic on stage."
– Michael Delucchi, Executive Director, Western Bankers Association
Contact to Speak
Complete the short form below to request information about Keynote and Speaking Appearances!
Robert J. Darling Bio
Retired Marine Corps Lt. Col.
Cobra "Attack Helicopter" Pilot
Marine Helicopter Squadron One Presidential Pilot for President Bill Clinton
White House Airlift Operations Officer who, during the attack on America on 9/11/01, responded to the underground White House Bunker Complex and stood shoulder to shoulder with America's highest leaders as they made unprecedented crisis leadership decisions on behalf of all Americans.
Author : "24 Hours Inside the President's Bunker, 9/11/01"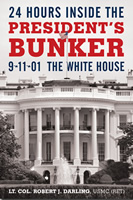 CEO of Quantitative Analytics, LLC
Managing Partner of Turning Point Crisis Management-USA
Harvard Kennedy School Executive Education Newsletter
Features Turning Point Crisis Management-USA